Almond Coconut Candy Bars Recipe
These Almond Coconut Candy Bars taste EVEN BETTER than that candy bar with a copyright we won't mention. Why? The almond butter drizzle. It's like your 8 year old self put on a smoking jacket and poured a glass of tawny port to enjoy this candy bar. But your 8-year-old self probably didn't like Almond Joys (oops we mentioned them) and now you're 35 and it's time to right that wrong ya freakin nut.
Almond Coconut Candy Bars
(1) 14 oz can sweetened condensed milk
3 cups unsweetened shredded coconut
36 roasted almonds
16 oz semi-sweet chocolate baking bars, chopped
Almond Butter Shell
3 Tbsp almond butter
1 Tbsp coconut oil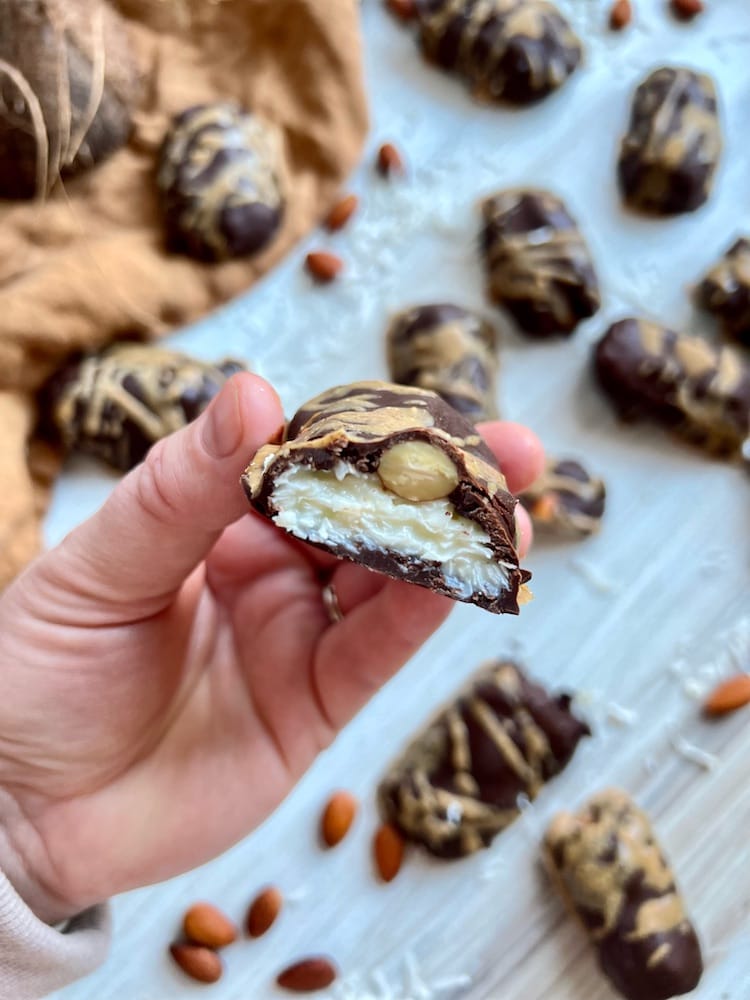 COOKING INSTRUCTIONS:
Almond Coconut Candy Bars
Almond Coconut Candy Bars
Line 9×9 baking dish with wax paper.
In a large bowl, mix sweetened condensed milk and shredded coconut until well-combined.
Pour coconut mixture into 9×9 dish and, using your hands, spread mixture until even and smooth.
Arrange the almonds so that you have 6 rows of 6. You'll be making 18 individual bars, and each individual bar will have a pair of almonds clustered end-to-end inside it, so be sure to cluster together rows 1 and 2, 3 and 4, and 5 and 6. Gently press almonds into mixture.
Place in the freezer for 15-20 minutes or until coconut mixture is firm. Transfer mixture to a cutting board while keeping it on wax paper.
Cut the 18 bars and separate them. Gently shape bars so that they're rounded on their edges. To keep bars from sticking to each other, place half the bars on wax paper in dish, then place the rest on top of another layer of wax paper. Place back in freezer for 30 minutes or until hardened completely.
When bars are firm, melt chocolate according to package instructions. Line a tray with parchment paper, set aside.
Remove half of the bars from the freezer at time to keep the rest firm. Use a fork dip each bar in chocolate and cover completely, then lift fork and gently shake off excess chocolate. Transfer each bar back to wax paper. Repeat with other half of bars.
Place chocolate covered bars in freezer until chocolate is set.
Almond Butter Shell
Mix almond butter and coconut oil until well-combined.
Once chocolate is set, remove bars from freezer, then drizzle with almond butter mixture, then return to freezer until shell is hardened. Serve immediately or store in fridge or freezer.
PAIRINGS:
Almond Coconut Candy Bars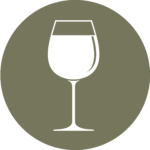 Tawny Port
Made This Recipe? Leave A Review!
0 out of 5 stars (based on 0 reviews)