Asian Salmon Rice Bowl Recipe
This Asian Salmon Rice Bowl packs ALL the flavors and textures much like a poke bowl (but the salmon is grilled!). Ginger, soy sauce, sesame, cucumber, mango, edamame, radish, and avocado, all over sushi rice. The perfect lunch or dinner that's just as healthy as it is filling and tasty.
Ginger Soy Marinade
1/4 cup oil (1 tsp sesame and rest canola)
1/4 cup water
1 Tbsp apple cider vinegar
1 Tbsp rice vinegar
2 Tbsp ginger paste
2 Tbsp soy sauce
1 Tbsp garlic
1 tsp pepper
1/4 tsp salt
Asian Salmon Rice Bowl
1 cup sushi rice
1 1/4 cup water
2 1/2 Tbsp rice wine vinegar
1/2 Tbsp sugar
1/2 tsp salt
Olive oil
Garlic powder
Salt
Pepper
Sesame ginger dressing
~1.5 lbs salmon, grilled
1 avocado, diced
1 cucumber, sliced
~5 radishes, thinly sliced
1 mango, diced
5 oz edamame, shelled
Pickled ginger
1/4 cup mayo
1/8 cup chili sauce
2 Tbsp Sriracha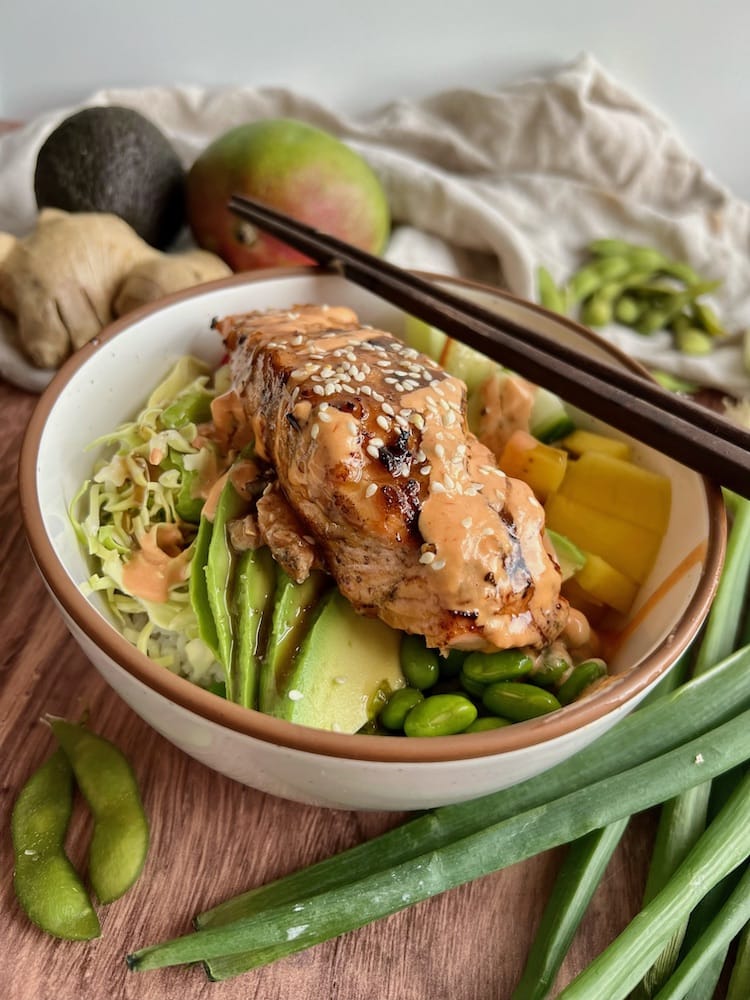 COOKING INSTRUCTIONS:
Asian Salmon Rice Bowl
Ginger Soy Marinade
In a storable container, whisk together all ingredients until well-combined. Add salmon and make sure it's mostly if not all the way submerged. Marinade in refrigerator for at least 20 mins.
Asian Salmon Rice Bowl
Combine sushi rice and water in small pot. Bring to a boil, then reduce heat, cover, and simmer for 20 minutes. Remove from heat, stir in rice wine vinegar, sugar, and salt. Refrigerate until ready to serve.
Preheat grill to high heat. Brush salmon with oil, then season with garlic powder, salt, and pepper. Grill salmon for 3 minutes on each side, beginning with skin side up first. Depending on thickness, an additional minute or two may be needed per side. Remove salmon from heat and set aside.
In a small bowl, mix mayo, chili sauce, and gochujang sauce until well combined.
To build the bowl, add rice to the bottom, then arrange avocado, cucumber, radish, mango, edamame, and pickled ginger on top of rice. Drizzle mayo on top of bowl. Add salmon, then top with sesame ginger dressing.
PAIRINGS:
Asian Salmon Rice Bowl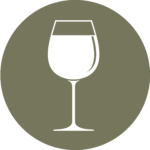 Rosé Sangiovese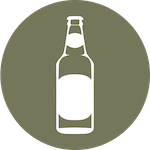 Belgian Saison
If you like our Asian Salmon Rice Bowl, you might also like:
Made This Recipe? Leave A Review!
0 out of 5 stars (based on 0 reviews)