Clam and Shrimp Portofino Recipe
This Clam & Shrimp Portofino recipe is a quick route to restaurant-quality pasta. Seafood, mushrooms, roasted pine nuts, all in a lemony parmesan cream sauce. Put on the "Italian Dinner Music" playlist, pop open the white wine, and let the evening pass nice and slow.
1/4 cup pine nuts
Olive oil, for cooking
16 oz colossal shrimp
16 oz sliced baby bella mushrooms
1/2 lb roasted red pepper linguine (or regular linguine)
3 Tbsp butter
2 shallots, minced
1 head garlic, minced
1 cup dry white wine
25 littleneck clams
1 cup heavy cream
1 lemon, zested and juiced
1/2 stick butter
10 oz fresh spinach
12 oz marinated artichoke hearts
Salt and pepper to taste
1 Tbsp cornstarch
1 Tbsp water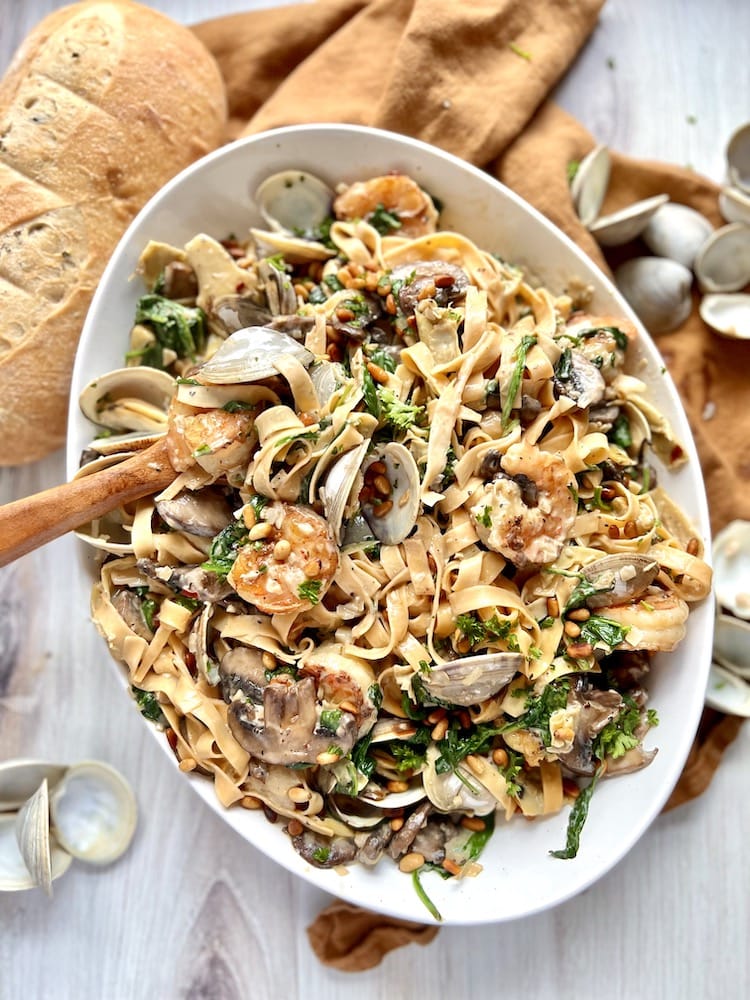 COOKING INSTRUCTIONS:
Clam and Shrimp Portofino
In a small pan, toast pine nuts over medium-low heat until lightly browned and fragrant. Remove from heat and set aside.
In same small pan, heat oil over medium-high heat. Sauté shrimp until pink and cooked through. Remove and set aside.
In a separate pan while the shrimp are cooking, heat oil over medium-high heat and sauté mushrooms. Remove and set aside.
Bring a pot of water to boil. Cook linguine according to package directions. Drain and set aside. Lightly oil the pasta to keep it from sticking.
In a large pan, melt butter over medium-high heat. Add shallots and sauté for 2 or so minutes. Add garlic and cook until fragrant. Add wine then clams and steam till all clams open. Remove clams and set aside.
In same large pan with wine mixture, add heavy cream, lemon zest, then lemon juice slowly. Add parmesan. Reduce by about 1/4 to 1/3. Add spinach, artichoke hearts, and mushrooms. Cook until spinach is wilted.
In a ramekin or small bowl, whisk together cornstarch and water to create a slurry. Stir into pan until well-integrated. Sauce should immediately begin to thicken.
Add in clams and shrimp and toss until well-coated. Serve immediately garnished with roasted pine nuts.
PAIRINGS:
Clam and Shrimp Portofino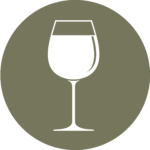 Sauvignon Blanc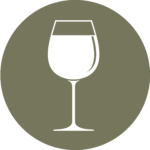 Chardonnay (Oaked)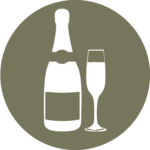 Prosecco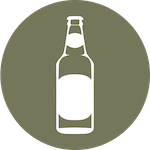 Italian Pilsner
Made This Recipe? Leave A Review!
0 out of 5 stars (based on 0 reviews)