Coconut Fried Shrimp
1 cup flour 
2 tsp salt
1 1/2 tsp pepper
3 large eggs, beaten
1 1/2 cup plain Panko bread crumbs
2 cups sweetened shredded coconut
2 pounds raw colossal shrimp, peeled and deveined with tails attached
Canola oil
Honey, for garnish
Curry Lime Dipping Sauce
1/2 cup + 1 Tbsp sour cream
4 Tbsp full-fat unsweetened coconut milk
1 heaping Tbsp green curry paste
Juice of 1 lime
2 Tbsp honey
2 tsp fresh ginger, micro-grated
Pinch of cayenne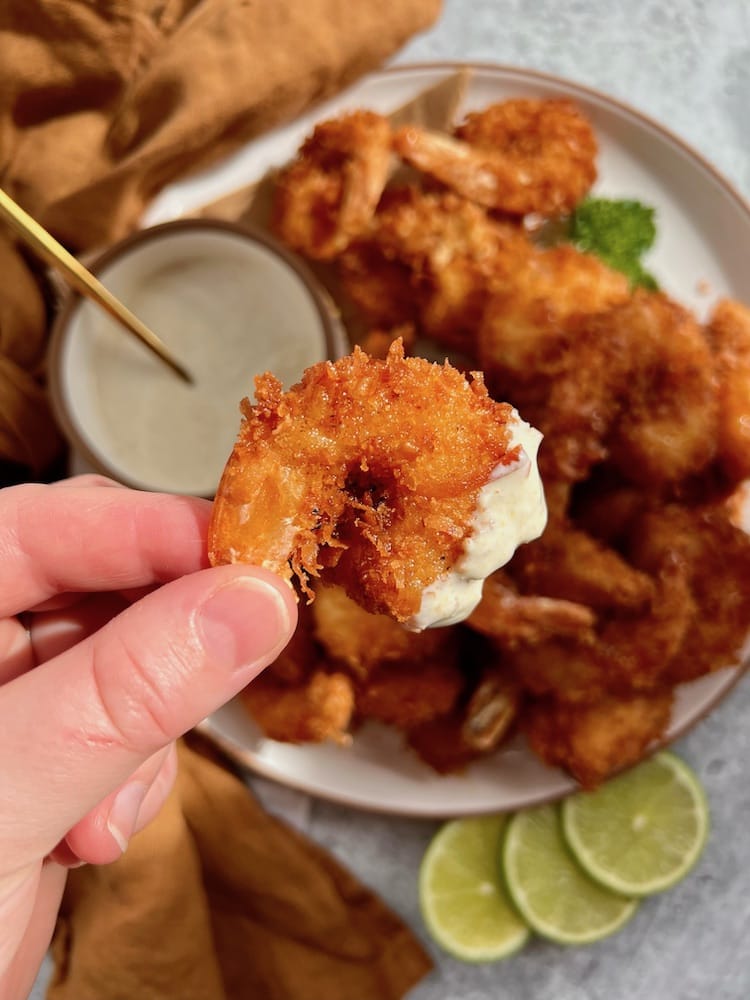 COOKING INSTRUCTIONS:
Coconut Fried Shrimp with Curry Dipping Sauce
Coconut Fried Shrimp
Using 3 bowls, place flour, salt, and pepper in one, beaten eggs in another, and Panko and coconut mixture in the third.
Working one at a time, dip shrimp into flour, then eggs, then dredge in coconut mixture, pressing gently to adhere. You want a lot of coconut mixture on each shrimp. Set aside coated shrimp on parchment paper.
Heat about 1" deep oil in large skillet to 300º. Working in batches of 7-8 shrimp at a time, fry for 2 minutes on each side or until golden brown and shrimp is cooked through. Do not overcrowd pan. Set aside cooked shrimp on towel to drain. Serve immediately with honey drizzled as garnish and with a curry lime dipping sauce.
Curry Lime Dipping Sauce
Combine all ingredients in a bowl and whisk until well-integrated. Chill in refrigerator until ready to serve.
PAIRINGS:
Coconut Fried Shrimp with Curry Dipping Sauce
If you like our Coconut Fried Shrimp with Curry Dipping Sauce, you might also like: