Chicken Marinade
2 chicken breast
Salt
Pepper
Garlic
Ginger powder
12 oz. bottled sesame ginger dressing
Ginger Sesame Dressing
1/2 cup canola oil
1/4 cup honey
1/4 cup rice vinegar
2 tsp soy sauce
1/4 tsp sesame oil
1 Tbsp garlic powder
1 tsp ginger powder
Salt
Pepper
2 Tbsp tahini
Salad Build
2 small apples, julienned
4 Mandarin oranges, segmented
1/2 – 3/4 cup roasted almonds
5 oz chow mein noodles
16 oz bag of tri-color coleslaw
6-8 mini-sweet peppers, thinly sliced into rings
Ginger sesame dressing
2 chicken breasts, grilled and sliced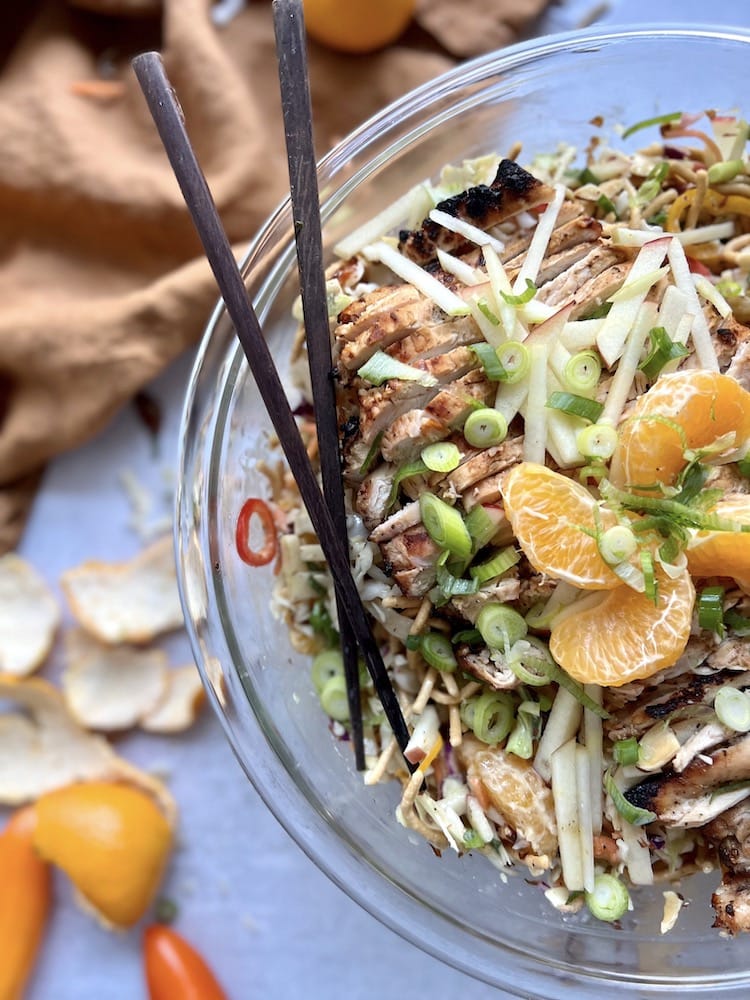 COOKING INSTRUCTIONS:
Crunchy Asian Chopped Salad
Chicken Marinade
Combine ingredients in a bowl or resealable bag. Mix or shake until well combined. Let marinate for at least 30 minutes.
Grill till internal temp of chicken is 165º. Let rest for 5 minutes, then slice thinly against the grain.
Ginger Sesame Dressing
Combine all ingredients in a bowl and whisk until well-combined.
Dressing stays good in the fridge for at least a few weeks. Be sure to shake/whisk again before using.
Salad Build
In a large serving bowl, combine all ingredients except chicken. Mix until well-combined. Top with chicken and more mandarin segments. Serve immediately.
PAIRINGS:
Crunchy Asian Chopped Salad