German Braised Beef & Spaetzle Recipe
This German Braised Beef and Spaetzle recipe is all about the slow-cooked beef and sauce ladled over dumpling-esque spaetzle.
Braised Beef
~2 lbs beef chuck roast
Salt
Pepper
Garlic powder
1/2 stick butter
3 carrots, diced
2 celery stalks, diced
1 onion, diced
3 Tbsp flour
1 head garlic, minced
1 cup thyme, loosely packed
2 cups beef broth
1 cup wine
2 Tbsp stone ground mustard
32 oz whole mushrooms, quartered
Spaetzle
2 1/2 cups flour
1/2 tsp salt
1/3 cup water
1/3 cup whole milk
3 eggs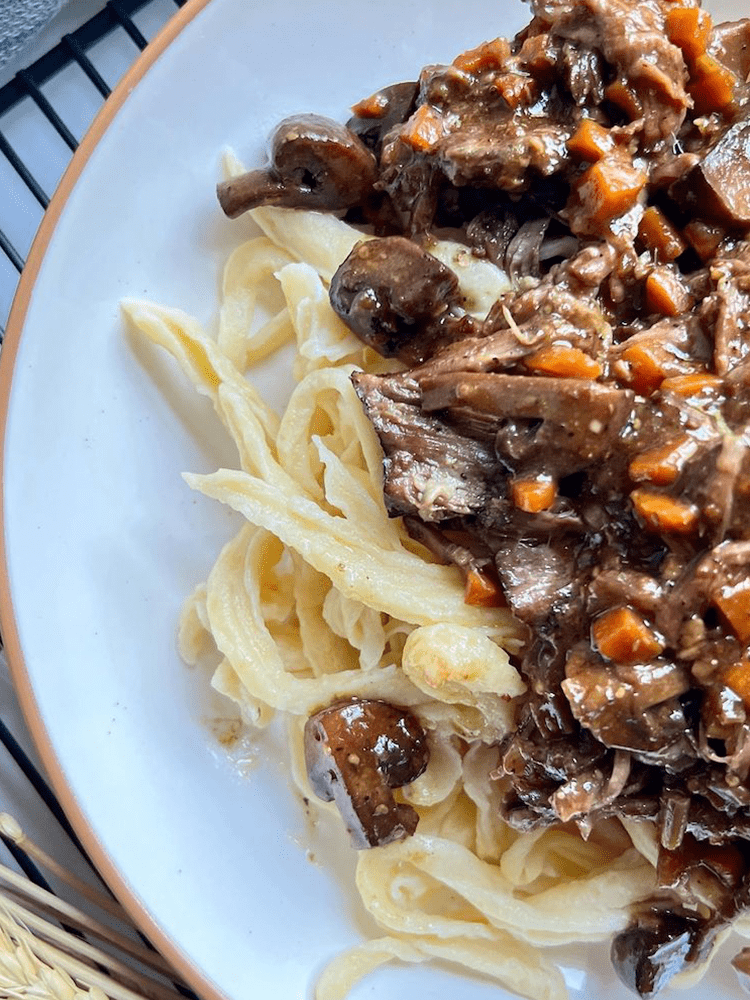 COOKING INSTRUCTIONS:
German Braised Beef & Spaetzle
Braised Beef
Preheat oven to 325º
Cut roast into 4 equal pieces. Season generously with salt, pepper, and garlic powder. Heat butter in pan over medium-high heat. Sear beef on all sides (~2 minutes per broad side and ~1 per edge). Remove from pan and set in roasting pan.
Using pan beef was seared in, sauté carrots, celery, and onion until they begin to get tender. Add garlic and thyme and cook for 1 minute. Stir in flour and cook for ~1 minute. Stir in mustard, wine, and beef broth. Remove from heat.
Pour pan mixture over top of beef in roasting pan. Be sure to place a bit of the veggies on top of the beef. If the liquid does not cover 3/4 of the beef height-wise, then add more beef broth and wine to taste. Tightly cover roasting pan with two layers of foil. Braise in oven for at least 4 hours.
Remove pan from oven and shred beef. Be sure to keep beef in middle of roasting pan so that plates can be properly built.
To build plate, place homemade spaetzle in large pasta bowl. Top with shredded beef. Ladle braising sauce over beef. Enjoy.
Spaetzle
In a large bowl, whisk together flour and salt. In a separate bowl, whisk together milk and eggs until blended.
Add egg mixture to flour mixture and stir vigorously with a wooden spoon until all dry mix is absorbed and dough becomes smooth.
Cover dough and let sit for 30 minutes at room temperature.
Bring a large pot of salted water to boil.
Take a small wooden cutting board and run water over it. A moistened surface will help with the spaetzle making process. Place about 1/2 cup of batter on cutting board and spread it over the surface in a thin layer.
Run a pastry scraper under cold water and begin using it to scrape small noodle-sized slices of the batter into boiling water.
Using a strainer spoon, remove the spaetzle as it floats to the surface of the water and set aside in a buttered dish.
Repeat steps 5-7 until all dough is used. For best results, wet your wooden board and pastry scraper regularly.
PAIRINGS:
German Braised Beef & Spaetzle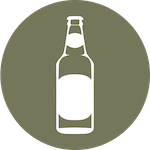 Oktoberfestbier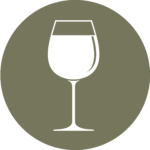 Cabernet Sauvignon
If you like our German Braised Beef & Spaetzle, you might also like:
Made This Recipe? Leave A Review!
0 out of 5 stars (based on 0 reviews)