Jalapeño Honey Cornbread Recipe
This Jalapeño Honey Cornbread recipe brings a little heat to the sweet in this otherwise traditional-style cornbread, but not enough to overpower this any-time side and snack.
1 1/2 cup flour
1 cup + 2 Tbsp cornmeal
3/4 tsp salt
3/4 tsp baking soda
1 Tbsp baking powder
3/4 cup butter (1 1/2 sticks)
1/4 cup + 2 Tbsp vegetable oil
1 1/2 cup granulated sugar
1/3 cup + 3 Tbsp honey
3 large eggs
1 3/4 cup + 2 Tbsp buttermilk
2 jalapeños, seeded & diced
Mike's Hot Honey, for topping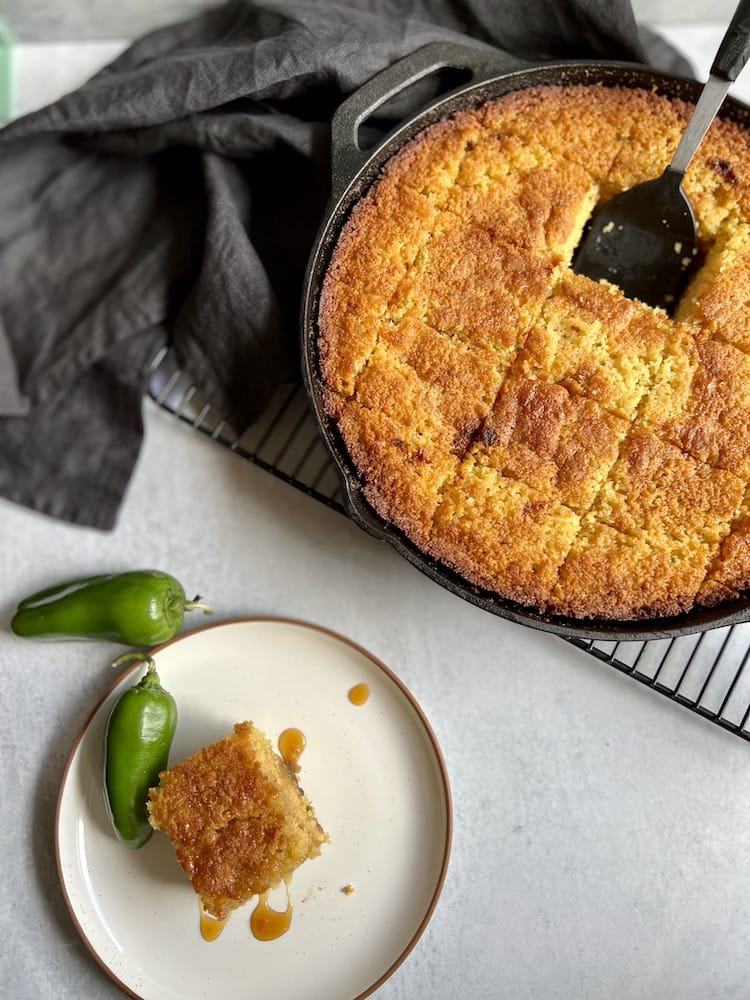 COOKING INSTRUCTIONS:
Jalapeño Honey Cornbread
Preheat oven to 375 degrees. Place 12-inch cast iron skillet in the oven while it preheats.
In a small mixing bowl, combine flour, cornmeal, salt, baking soda and baking powder. Set aside.
Take a tablespoon of your butter and set aside for greasing skillet later.
Melt the remaining butter in a large bowl in the microwave.
Add oil, sugar, and honey to melted butter. Stir until combined.
Add eggs and buttermilk to wet ingredients and whisk until fully incorporated. Stir in jalapeños.
Stir dry ingredients into wet ingredients while being careful not to over-mix. A few lumps in batter are OK.
Remove skillet from oven. Grease bottom and sides of skillet with the butter you set aside—a silicone brush works nicely.
Pour batter into hot skillet. Place skillet back in oven and bake at 375º for 28-32 minutes. The cornbread is done when top begins to turn golden brown, edges begin to pull away from pan, and the center is set. Test by inserting a toothpick. If toothpick comes out clean, cornbread is done.
Remove from oven and let cool for 5-10 minutes before slicing and serving. This is best served right away so the edges are nice and crispy! Top with hot honey if desired.
PAIRINGS:
Jalapeño Honey Cornbread
Made This Recipe? Leave A Review!
0 out of 5 stars (based on 0 reviews)