Pan Seared Scallops & Succotash Recipe
These Pan Seared Scallops and Succotash don't take long to make, but the flavors and textures are absolutely unforgettable. It's the perfect summer dish to serve up with a cold glass of Chardonnay.
Succotash
2 cups frozen baby lima beans
2 bacon steaks (or 4 regular cut bacon), baked then diced
1 onion, diced
10-12 okra, sliced into 1/2" pieces
1/2 head of garlic, finely diced
6 ears of corn, boiled then cut from cob
5 oz cherry tomatoes, halved
6 Tbsp butter
1/4 cup heavy cream
1/2 cup fresh basil, chopped
Salt
Pepper
Pan-Seared Scallops
1 lb sea scallops
Salt
Pepper
Canola oil
1/2 stick butter, divided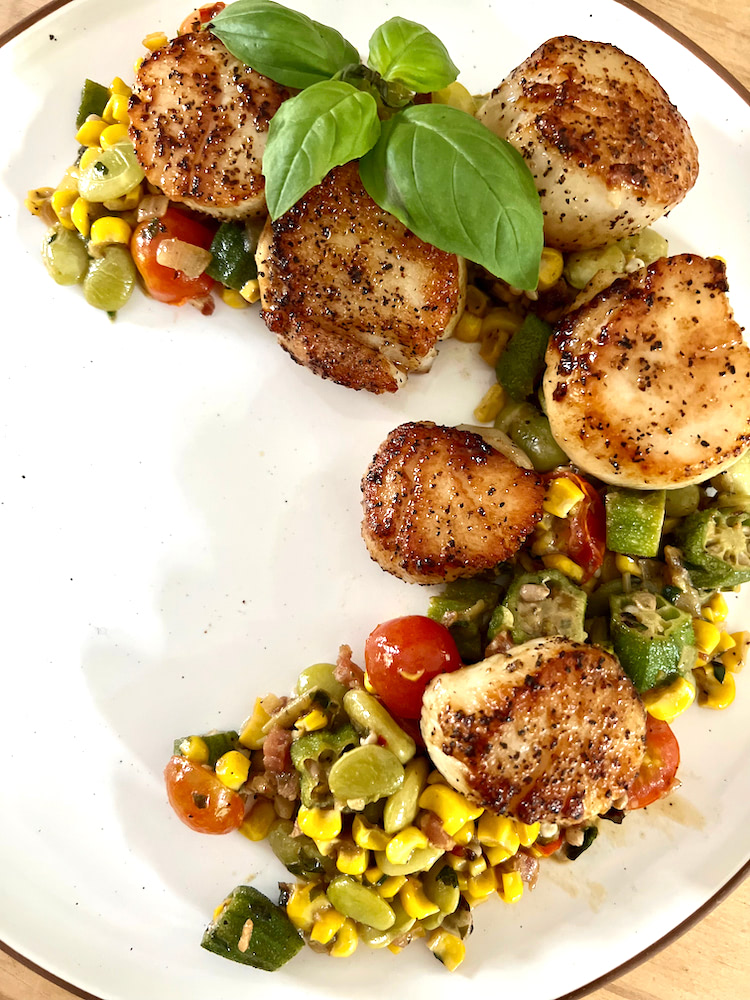 COOKING INSTRUCTIONS:
Pan Seared Scallops & Succotash
Succotash
Preheat oven to 400°. Bake bacon for 20 minutes, rotating the tray halfway through. Once fully cooked, blot with paper towel to remove excess grease. Then dice. Set aside.
While waiting on oven/bacon, bring small pot of water to boil, then add lima beans and reduce to simmer. Simmer for 8-10 minutes. Remove from heat and drain. Set aside.
Sauté onion and okra until okra just begins to soften. Add garlic and cook for 1 minute. Add lima beans, bacon, corn, tomatoes and half of the butter. Cook for 5-6 minutes.
Stir in heavy cream, other half of butter, and basil until well-integrated. Salt and pepper to taste. Remove from heat and serve.
Scallops
Wrap scallops in paper towel to remove excess moisture. Then remove from towel and salt and pepper them (stay light on the salt—they're already naturally briny.)
Add just enough oil to pan that it covers the bottom. Heat on high-heat.
Just when oil begins to smoke, add scallops in a ring around the pan (avoid the center of the pan while making sure scallops aren't overcrowded). Cook for 1-2 minutes or until a golden brown crust is evident on the bottom of the scallop sides. Flip scallops then add butter. While continuously spooning butter over the scallops, cook for another 1-2 minutes or until the scallops are translucent. Remove from heat and serve immediately. (Cook in two batches if necessary).
PAIRINGS:
Pan Seared Scallops & Succotash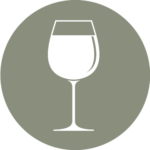 Chardonnay (Lightly Oaked)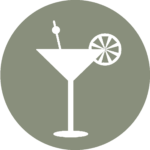 Corpse Reviver No. 2
Made This Recipe? Leave A Review!
0 out of 5 stars (based on 0 reviews)