Pumpkin Pasta with Rosemary Cream Sauce Recipe
Our Pumpkin Pasta with Rosemary Cream Sauce recipe gives fettuccine alfredo a  fall-style makeover by adding pumpkin and nutmeg to the pasta, a healthy dose of rosemary to the cream sauce, and some pepitas for a little festive texture.
Pumpkin Pasta Dough (Leite Culinaria's recipe)
1/3 cup puréed cooked pumpkin (or canned pumpkin purée)
2 large eggs
2+ cups "00" flour
2 Tbsp semolina flour, plus more for work surface
3/4 tsp salt
Pinch of nutmeg
Mushrooms & Sausage
4 whole portobello mushrooms, sliced in 1/2" strips
Olive oil
Balsamic vinegar
Garlic powder
Dried basil
Dried oregano
Crushed red pepper
Salt
Pepper
5 Italian sausages, hot or mild
Rosemary cream sauce
1/4 cup butter
4 Tbsp olive oil
1 onion
1 head of garlic
4 fresh sprigs rosemary
1/2 Tbsp dried Rosemary
2 tsp crushed red pepper
1 cup whole milk
3/4 cup heavy cream
1 cup Parmesan, fresh grated
Salt and pepper to taste
Pepitas, for garnish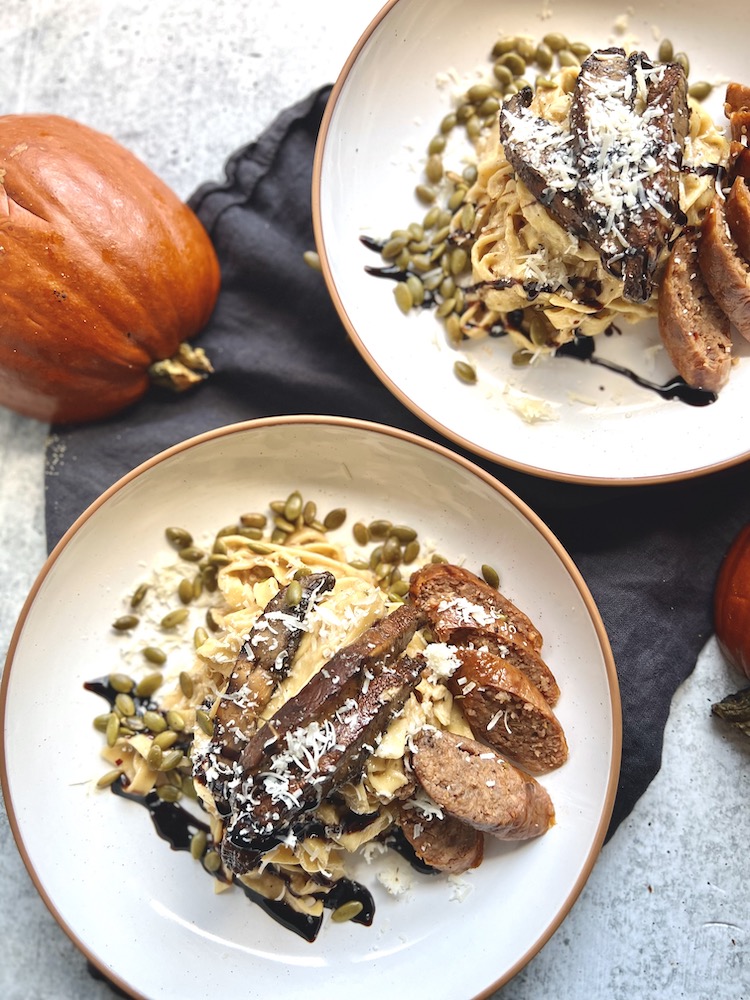 COOKING INSTRUCTIONS:
Pumpkin Pasta with Rosemary Cream Sauce
Pumpkin Pasta Dough
In a bowl, whisk together pumpkin and 1 egg.
In a food processor, briefly pulse "00" flour, semolina flour, salt, and nutmeg.
Add pumpkin mixture to food processor and briefly pulse until well-combined. Add the other egg and pulse until dough beings to look crumbly.
Remove from food processor and, on a semolina floured work surface, press dough into ball. Knead the dough until it's smooth. Form into ball, wrap in plastic wrap, and let rest at room temperature for 30 minutes.
Bring pot of water to boil. Either hand-cut or with a machine, cut dough into fettuccine. Boil for 2-3 minutes or until pasta is al dente.
Mushrooms & Sausage
In a large bowl, whisk together all ingredients except mushroom and sausage. Carefully toss mushrooms strips in sauce.
Grill mushroom strips and sausage to taste.
Rosemary Cream Sauce
In a pan over medium-high heat, add butter, olive oil, and fresh rosemary. Add onions and cook until soft. Add garlic dried rosemary, and crushed red pepper and cook until fragrant.
Slowly stir in milk and heavy cream. Slowly bring to a simmer and cook until it begins to thicken. Stir in parm cheese, then salt and pepper to taste.
Stir in mushrooms, sausage, and pasta until everything is well-coated. Garnish with pepitas and serve immediately.
PAIRINGS:
Pumpkin Pasta with Rosemary Cream Sauce
Made This Recipe? Leave A Review!
0 out of 5 stars (based on 0 reviews)