PREP TIME
2 hours 15 mins
Brining & Roasting Quail
4 quail
2 qts water
1/2 cup apple juice
1/2 cup brown sugar
1/4 head of garlic, crushed
2 bay leaves
1 Tbsp black peppercorn
1 Tbsp dried rosemary
Zest of one medium-sized orange
Finishing Sauce for Quail
1/4 onion, finely diced
2 cloves garlic, minced
1 Tbsp fresh rosemary, finely chopped
1 Tbsp fresh thyme, finely chopped
1 Tbsp flour
1 cup dry white wine
1 cup chicken stock
Cracked pepper
Salt
Zest of one medium-sized orange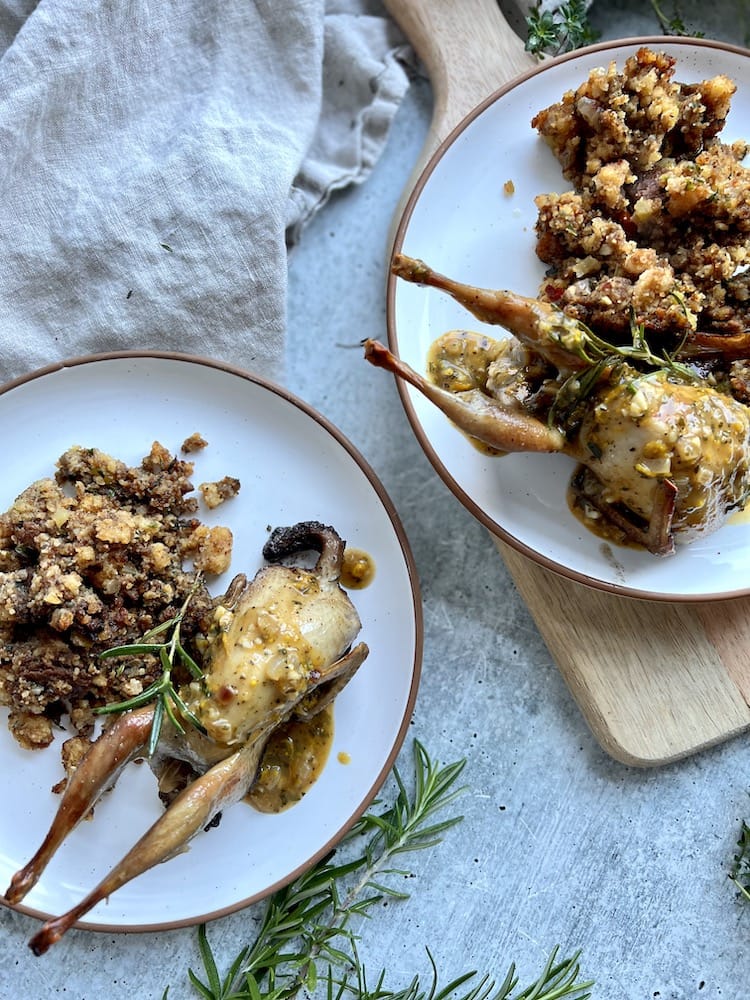 COOKING INSTRUCTIONS:
Roasted Quail with Citrus Herb Sauce
Brining & Roasting Quail
Combine all ingredients in a large pot. Bring to a boil. Remove from heat and let cool to room temperature.
Brine quail in refrigerator for 2 to 6 hours.
Preheat oven to 500º.
Grease a cast-iron pan or baking dish with butter. Place quail breast-side up without overcrowding. Roast for 10 minutes, then remove quail, baste with butter, and place back in over for another 6-10 minutes, or until desired doneness. Total cook time should be about 16-20 minutes.
Remove from oven and serve topped with finishing sauce and a side of pumpernickel cornbread stuffing.
Finishing Sauce for Quail
In a medium-sized pan over medium-high heat, sauté onion until soft. Add garlic, rosemary, and thyme and sauté until fragrant.
Whisk in flour and cook for another 1-2 minutes. Add orange zest and wine. Reduce wine by half. Add stock and reduce until sauce is desired thickness. Remove from heat and top quail immediately.
PAIRINGS:
Roasted Quail with Citrus Herb Sauce
If you like our Roasted Quail with Citrus Herb Sauce, you might also like: