Steamed Little Neck Clams Recipe
These Steamed Little Neck Clams are not only fancy af—they've got a broth you'll want to drink out of the bowl, pot, a shot glass, even an IV. The prep is a traditional dose of butter, wine, cream, and fresh herbs, but this is truly a comeback recipe if there ever was one.
1 stick butter, divided in half
2 shallots, minced
1 head garlic, minced
1 cup white wine
2 cups chicken broth
1 lemon, juiced
100 little neck clams
1/2 Tbsp crushed red pepper
Pepper to taste
1/4 cup heavy cream
1/2 cup fresh parsley, chopped
3 Tbsp fresh oregano, chopped
1 Italian bread loaf, baked and sliced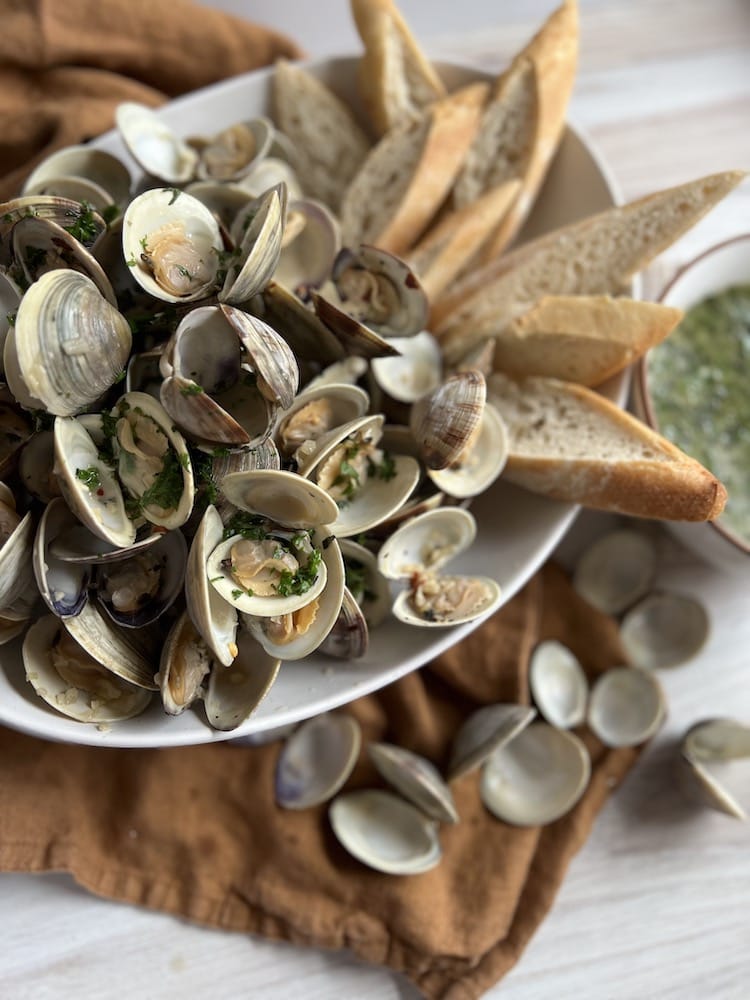 COOKING INSTRUCTIONS:
Steamed Little Neck Clams
In a pot, melt 4 Tbsp butter. Add minced shallot and sauté for approx. 5 mins. Add in Minced garlic and cook for ~1 minute or until fragrant.
Add white wine and reduce by half. Add in chicken broth. Rinse clams thoroughly and then carefully add them to your pot. Make sure to remove and throw out any open or cracked clams. Cover pot with a lid and bring to simmer. Simmer for 3-5 minutes.
Keep checking on the clams, stirring occasionally and removing them to a separate bowl as they open.
Once all clams are removed from pot, add in remaining 4 Tbsp butter, lemon juice, crushed red pepper and herbs. Allow to simmer for a minute to integrate and then remove from heat. Stir in 1/4 cup heavy cream. Salt to taste if needed. Serve alongside clams and bread for dipping
PAIRINGS:
Steamed Little Neck Clams
Made This Recipe? Leave A Review!
0 out of 5 stars (based on 0 reviews)