These Ahi Tuna Nachos are the ultimate fusion appetizer—sushi meets nachos with succulent seared tuna steak and a wasabi aioli.
12 oz. Ahi tuna
1/4 tsp salt
2 Tbsp black and white sesame seeds
2 Tbsp olive oil
1 Tbsp soy sauce
Vegetable oil
Egg roll wrappers, each sliced into 5 triangular pieces
1 Tbsp furikake flakes
3 Tbsp mayonnaise
1 tsp wasabi paste
1 cup finely shredded green cabbage
1 medium avocado
2 Tbsp sriracha
2 Tbsp chopped cilantro
2 Tbsp thinly sliced green onion
1 medium jalapeño, thinly sliced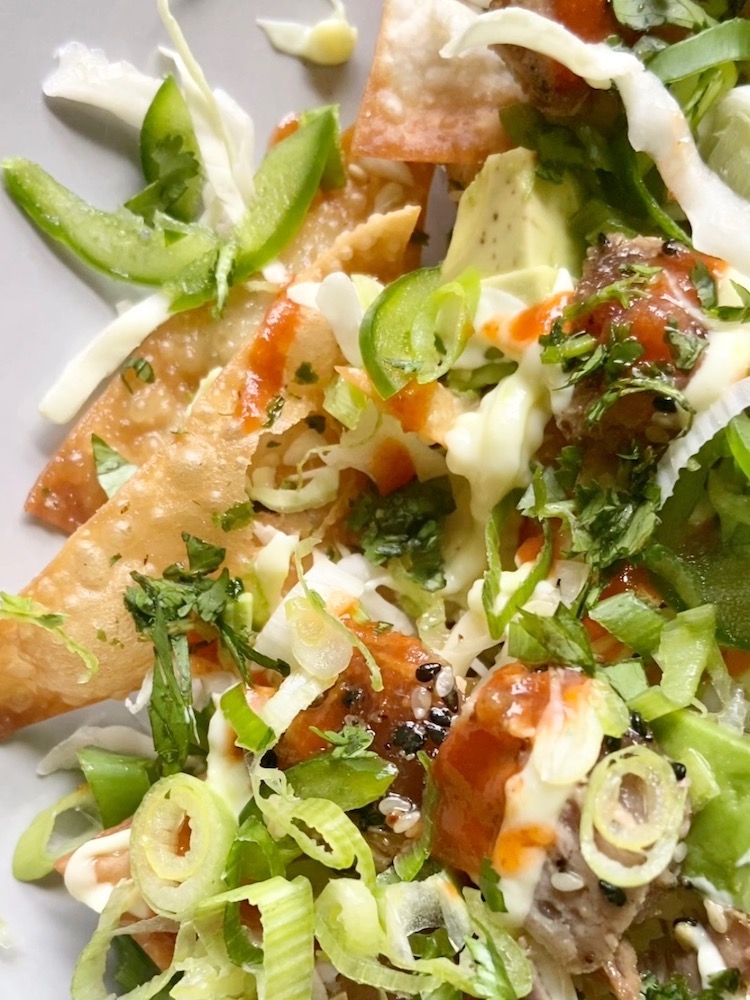 COOKING INSTRUCTIONS:
Ahi Tuna Nachos
Season tuna with salt and sesame seeds. Add olive oil to a sauté pan on high heat. Sear tuna for about 30 seconds to 1 minute per side (be sure to sear edges as well).
Remove tuna from heat and slice into 1" cubes. Toss with soy sauce in a bowl. Refrigerate until ready to serve.
In a large pan over medium heat, add enough vegetable oil to fill about an inch up the pan. Heat oil to 350°F (180ºC). Add 10-15 egg roll chips to the oil, and fry on both sides for about 30 seconds or until lightly golden brown.
Remove fried chips to a paper towel-lined plate to drain. Once all chips have been fried, toss in a bowl with furikake and set aside.
In a small bowl, whisk mayonnaise and wasabi paste until thoroughly combined. Refrigerate until ready to use.
Spread egg roll chips out on a large platter. Top with shredded cabbage, avocado, and tuna. Drizzle with wasabi mayonnaise and sriracha, then finish with cilantro, green onion, and jalapeños.
PAIRINGS:
Ahi Tuna Nachos
Made This Recipe? Leave A Review!
0 out of 5 stars (based on 0 reviews)