This Beef Pho is surprisingly easy to make—the trick is letting the broth cook as long as possible. You can rush it with 2 1/2 hours, or you can let it cook overnight and awaken to the deepest beef and baking spice flavors you've ever had. Remember though—the broth is hot—you can't just tilt the whole pot into your mouth.
Beef Pho Broth
2 onions, peeled and halved
5" ginger root
5 star anise
1/2 Tbsp whole cloves
1 Tbsp black peppercorns
1 head garlic, smashed
10 cups water (or enough to entirely cover the meat)
1.5-2lbs oxtail
1.5-2lbs beef neck
1.5-2lbs bone marrow
3 shallots, peeled
1 cinnamon stick
1 daikon, peeled and cut into thirds
1/2 cup fish sauce
1 Tbsp salt
Beef Pho Bowl Build
Rice noodles, cooked per package instructions
Scallions, sliced
Fresno chiles, sliced
Cilantro, chopped
Sirloin steak, thinly sliced & seared
Maitake mushroom, grilled
Beef broth
Mung bean sprouts
Lime wedges
Chili crisp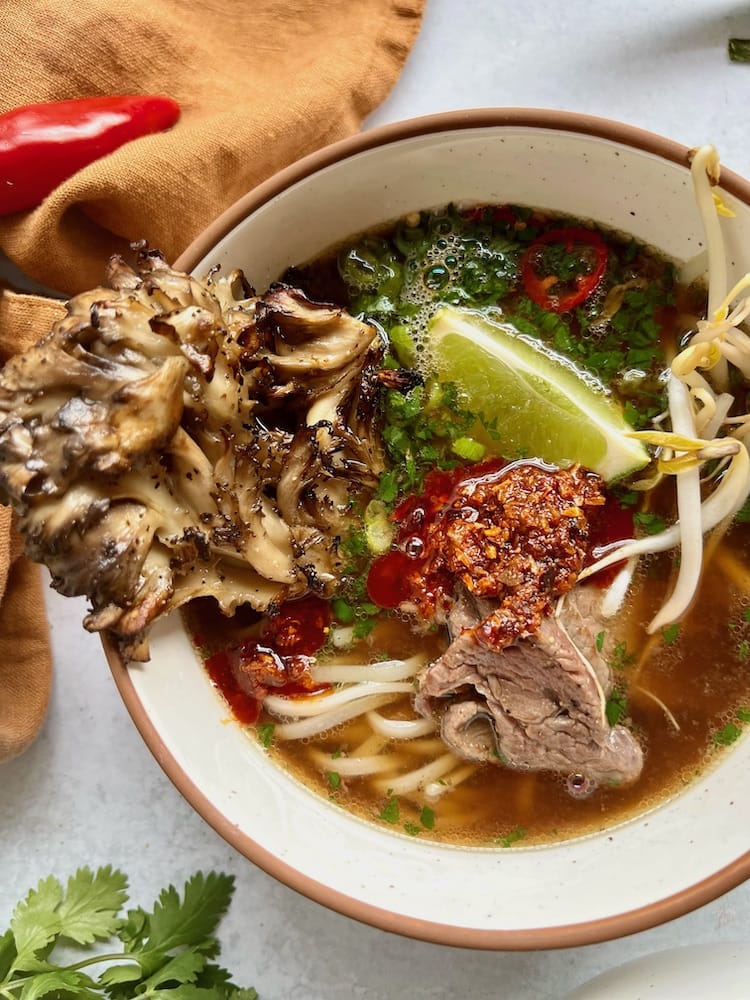 COOKING INSTRUCTIONS:
Beef Pho
Beef Pho Broth
Preheat grill to high. Grill onions and ginger until charred and fragrant. Set aside.
In a small pan, toast anise, cloves, peppercorns, and garlic for 5 minutes while stirring frequently. Set aside.
In a large pot, add oxtail, beef neck, bone marrow, and 10 cups water. Bring to boil. Skim off all scum and remove.
Add the rest of the ingredients except for fish sauce and salt. Boil for 15-20 minutes then lower heat to simmer, add salt and fish sauce, then cook for at least 2 1/2 hours uncovered. It's best to cook this for 10-12 hours.
Beef Pho Build
In personal sized bowls, build pho with listed ingredients to taste.
Made This Recipe? Leave A Review!
0 out of 5 stars (based on 0 reviews)