Irish Stew Stuffed Rolls Recipe
These Irish Stew Stuffed Rolls take that comforting pot of beef and veggies and roll it up into personal-sized, stromboli-ish sammiches. Then we serve it up with a side of horseradish dipping sauce to bring a little bit of that steakhouse flair.
Irish Stew
~2 lbs beef chuck roast
Salt
Pepper
Garlic powder
1/2 stick butter
2 onions, diced
3 carrots, diced
1-2 parsnips, diced
2 celery stalks, diced
1/2 lb bacon, diced
1 head garlic, minced
1 cup thyme, loosely packed
3 Tbsp flour
2 cups beef broth
1 can Guinness
3 Tbsp tomato paste
2 bay leaves
Irish Stew Jus
1 cup braising liquid
1/2 Tbsp cornstarch*
1/2 Tbsp water*
Irish Stew Stuffed Rolls
1 ball pizza dough, divided into sixths
Stew meat
Stew veggies
Stew jus
1 egg, beaten
Horseradish Dipping Sauce
3/4 cup sour cream
2 Tbsp prepared horseradish, drained
2 Tbsp mayo
1 Tbsp jus
1/2 tsp garlic powder
1/4 tsp onion powder
1/4 tsp salt
1/8 tsp black pepper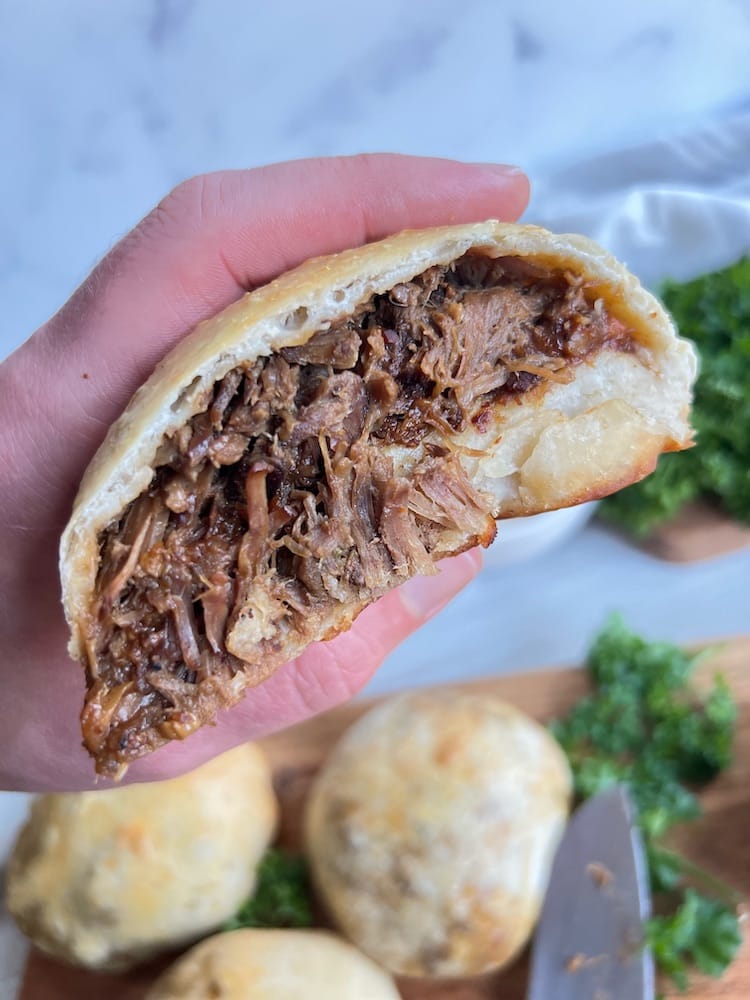 COOKING INSTRUCTIONS:
Irish Stew Stuffed Rolls
Irish Stew
Preheat oven to 325º
Cut roast into 4 equal pieces. Season generously with salt, pepper, and garlic powder. Heat butter in pan over medium-high heat. Sear beef on all sides (~2 minutes per broad side and ~1 per edge). Remove from pan and set in roasting pan.
Using pan beef was seared in, sauté onion, carrots, parsnips, and celery until they begin to get tender. Add bacon and brown. Add garlic and thyme and cook for 1 minute. Stir in flour and cook for ~1 minute. Stir in beer, beef broth, tomato paste, and bay leaves. Remove from heat.
Pour pan mixture over top of beef in roasting pan. Be sure to place a bit of the veggies on top of the beef. If the liquid does not cover 3/4 of the beef height-wise, then add more beef broth. Tightly cover roasting pan with two layers of foil. Braise in oven for at least 4 hours.
Remove from oven and shred meat. Set aside.
Irish Stew Jus
After roast is done cooking, drain about 1 cup of braising liquid into small pan. Bring liquid to simmer and reduce until desired thickness. Remove from heat and let cool a few minutes.
*If sauce doesn't thicken enough on its own, create a slurry. In a small container, whisk together cornstarch and water until well integrated. Slowly whisk slurry into braising liquid. Continue simmering until sauce reaches desired thickness. Remove from heat and let cool a few minutes.
Irish Stew Stuffed Rolls
Preheat oven to 425º.
Working one at time, roll out each sixth into 6-7" diameter discs.
Top each disc with about 3/4 cup of stew meat, a heaping Tbsp of stew veggies, and a Tbsp of stew jus.
Pull dough from all sides up and around filling. Purse dough together then flip roll to lay it pursed side down. Repeat with rest of dough.
Brush each dough roll with egg. Bake in oven for 20-25 minutes or until dough is golden brown and firm to touch. Remove from oven and serve immediately with horseradish dipping sauce.
Horseradish Dipping Sauce
Combine all ingredients in a bowl then whisk together until well-integrated. Chill until ready to serve.
PAIRINGS:
Irish Stew Stuffed Rolls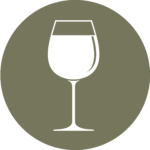 Shiraz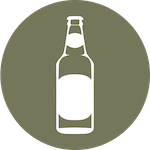 Irish Stout
Made This Recipe? Leave A Review!
0 out of 5 stars (based on 0 reviews)