Sweet Potato Gnocchi w/ Chipotle Cream Sauce Recipe
Our Sweet Potato Gnocchi with Chipotle Cream Sauce fuses Italian and Mexican flavors for an unforgettable twist on comfort food. Make this dish any time from fall through winter and you'll be sure to get a little extra dose of cozy.
Sweet Potato Gnocchi
3 cups mashed sweet potato, roasted and mashed
1 egg
1 tsp salt
2 cups flour, plus more if needed
Chipotle Cream Sauce
7 oz can of chipotles in adobo sauce
1/4 cup butter
1 onion, diced
1 head garlic, minced
5 chorizo sausages, casings removed
2 cups milk
1 1/2 cups heavy cream
1/2 cup pasta water
1 to 1 1/4 cup parmesan
Salt
Pepper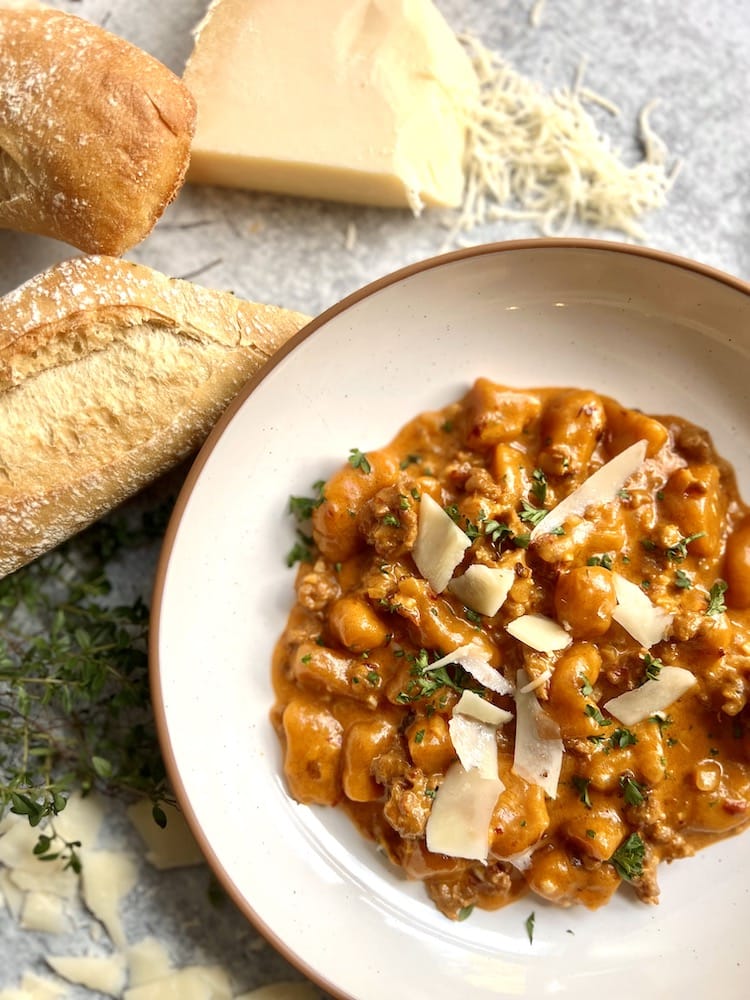 COOKING INSTRUCTIONS:
Sweet Potato Gnocchi w/ Chipotle Cream Sauce
Sweet Potato Gnocchi
Preheat oven to 400º. Using a fork, poke holes in the outside of raw sweet potatoes. On a foil-lined baking sheet, oil the outside of the potatoes, then salt them. Bake for 1 hour or until fully cooked through. Scoop out potato from skins into mixing bowl.
Using a stand mixer, combine potatoes, eggs, and salt. Slowly mix in flour until dough ball can be formed without sticking to fingers.
Divide dough into sections, roll sections into rope. Using pastry cutter slice into 1 inch sections. Use the back side of a fork to roll gnocchi into shape.
Bring a pot of salter water to boil. Boil gnocchi until they float. Remove from water and serve immediately.
Chipotle Cream Sauce
In a pan over medium-hight heat, break up chorizo using a spatula. Cook until ~165º internal temp. Remove chorizo from pan and set aside.
Remove chipotles from can and dice. Set aside. Set aside adobo sauce still in can as well.
Melt butter in previous pan over medium-high heat. Add onion and sauté until translucent. Add garlic and cook until fragrant. Stir chipotles and adobo sauce. Cook for 1-2 minutes. Salt and pepper to taste.
Slowly whisk in milk, heavy, cream, and pasta water. Bring to a simmer while stirring. Continuing to stir, reduce until sauce begins to thicken. Stir in parmesan. Salt and pepper to taste. Remove from heat and serve.
PAIRINGS:
Sweet Potato Gnocchi w/ Chipotle Cream Sauce
If you like our Sweet Potato Gnocchi w/ Chipotle Cream Sauce, you might also like:
Made This Recipe? Leave A Review!
0 out of 5 stars (based on 0 reviews)