Sweet Potato Pierogi Recipe
These Sweet Potato Pierogi are better than the original! Caramelized sweet potato. Nutty grueyere. Creamy asiago. Brown butter sage sauce.
Pierogi dough
2 cups four
1/2 tsp salt
1 large egg
1/2 cup sour cream
4 Tbsp butter, room temperature
Pierogi Filling
3 large sweet potatoes, baked and skin removed
3/8 tsp nutmeg
3/4 tsp ginger
1 Tbsp garlic powder
2 tsp salt
2 tsp pepper
6 oz Gruyère, freshly grated
1/2 cup Asiago, freshly grated
Pierogi Build & Cook
Pierogi Build & Cook
Dough
Filling
Pot of boiling water
Butter
1 1/2 onions, quartered and slivered
2 shallots, finely minced
Brown Butter Sage Sauce
1 stick butter
1/2 head garlic
10 sage leaves
Salt
Pepper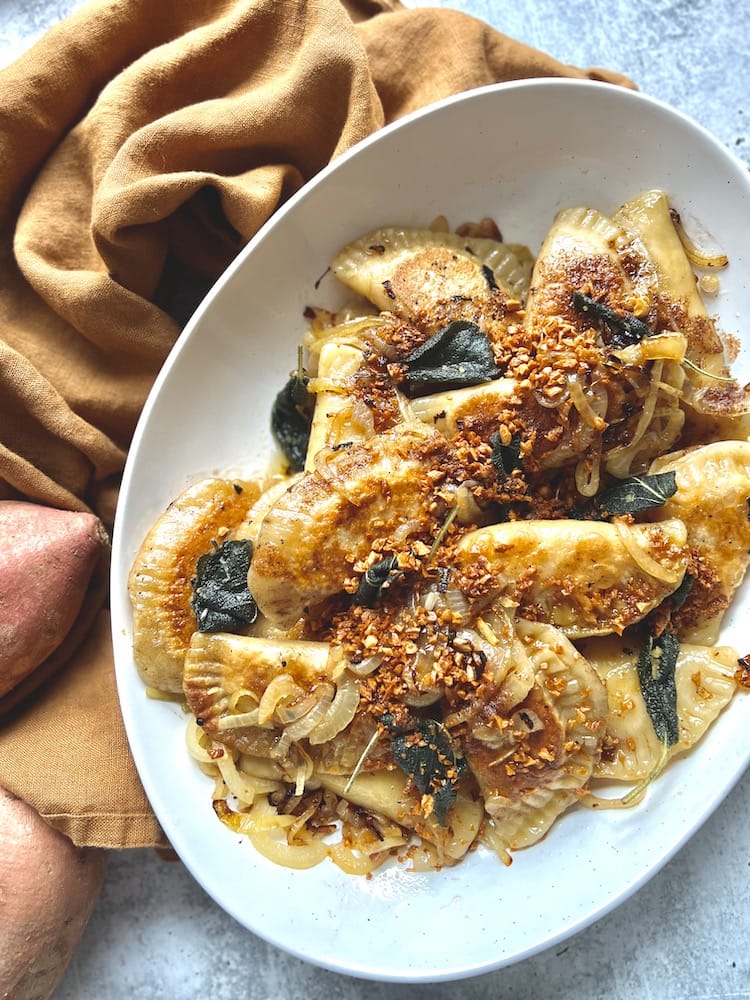 COOKING INSTRUCTIONS:
Sweet Potato Pierogi
Pierogi Dough
In a large bowl, mix together flour and salt. Add egg to flour and combine. Dough should be clumpy.
Mix in sour cream and butter until dough comes together in a slightly rough, slightly sticky ball.
Lightly knead and fold dough (without adding more flour) until dough becomes less sticky but still moist.
Wrap dough in plastic wrap and refrigerate for at least an hour, or up to two days.
Pierogi Filling
Combine all ingredients in a food processor and blend until smooth.
Pierogi Build & Cook
Cut dough in half then roll each half to 1/8" thickness. Use a 4" round cutter or wine glass to cut circles of dough. Combine scraps and roll out again to get more pierogi shells.
Add a heaping tsp of filling to each shell. Working one at a time, lightly add some water to the edges of the shell. Then fold shell in half and pinch it closed. Seal with fork tines. Repeat until all shells are sealed.
Boil pierogi until they float. Remove from water and drain.
In a large pan, add 2 Tbsp butter then sauté onions and shallots until soft. Remove from pan. Add more butter to taste, then working in batches, cook pierogi on each side until golden brown. Remove form pan and toss in serving dish with onions and shallots. Serve topped with brown butter sage sauce.
Brown Butter Sage Sauce
Melt butter in a small saucepan over medium-low heat and cook until it begins to bubble. Add garlic and sage. Salt and pepper to taste. Cook stirring continuously until butter has foamed up and turned a deep golden brown. Remove from heat and pour over pierogi in a serving dish. Enjoy!
PAIRINGS:
Sweet Potato Pierogi
Made This Recipe? Leave A Review!
0 out of 5 stars (based on 0 reviews)