1 oz lemon juice, bottled or fresh
1 Gala apple, peeled
2 oz Gala apple juice
Juice of half lemon
2 oz Cognac or brandy
3/4 oz Amontillado sherry
1/2 oz ginger liqueur
1/4 oz simple syrup
Pour 1 oz lemon juice in bowl. Peel apple. Toss peel in lemon juice. Wrap peel around finger and pull on it a bit to help it keep a spiral shape once removed from your finger. Arrange peel in coupe glass. Set aside.
Be sure to complete Steps 3 & 4 as quickly as possible, as the apple juice will need lemon juice in order to prevent browning.
Core apple and slice into 10 pieces. Using a food blender, add apple slices and 1 oz of water. Blend until pulp is fine. Pour blender contents through stainer into container while pressing with spoon to extract as much juice as possible.
In a mixing glass, combine fresh apple juice, juice of half lemon, and all alcohol. Add ice and stir to until well-chilled.
Strain mixing glass into coupe glass. Enjoy.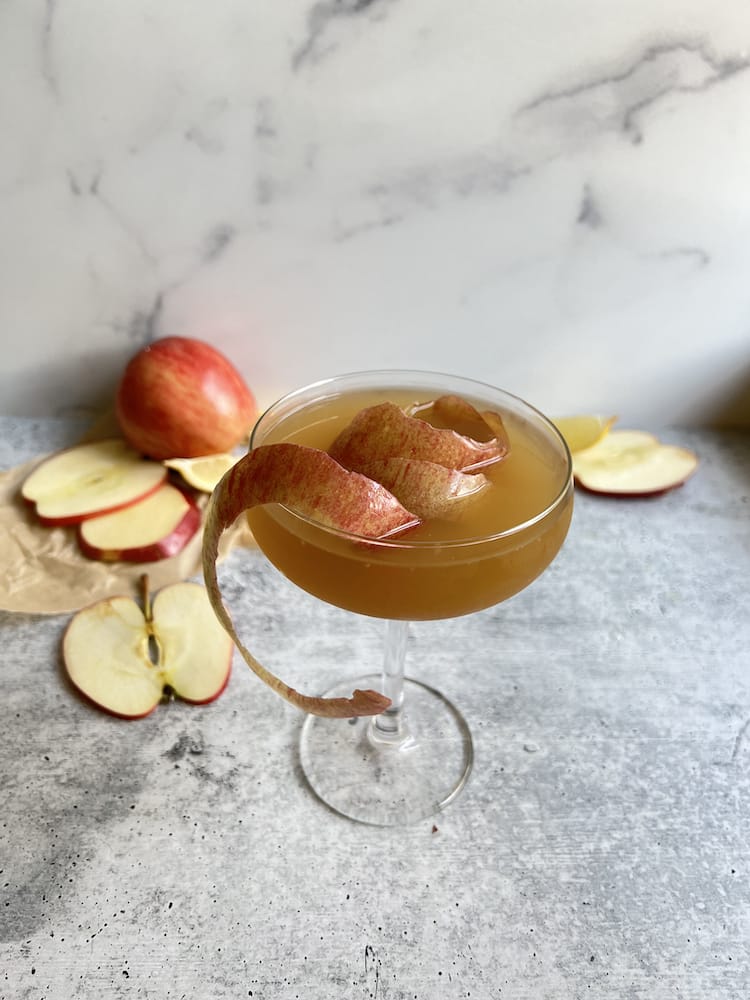 Made This Recipe? Leave A Review!