Thai Curry Dumpling Soup Recipe
This Thai Curry Dumpling Soup brings all the creamy, spicy, floral flavors you love in Thai Curry and combines all that comfort with yet another comfort food—pork dumplings. So much yum in one bite your brain won't be able to handle the endorphin rush.
1 Tbsp oil
1 onion, halved and slivered
1 yellow pepper
1 red pepper
1 medium zucchini
8 oz brown mushrooms
2 Tbsp fresh ginger, grated
1 head garlic
2 Tbsp lemongrass paste
4 oz green curry paste
1 large or 2 small limes, zested and juiced
4 cups chicken broth
3 Tbsp fish sauce
1 Tbsp gochujang
3 13.5 oz cans coconut milk
2 Tbsp sugar
1/3 cup fresh chopped cilantro
Salt to taste
Pepper to taste
25 frozen dumplings (pork or chicken)
Fresno chiles, sliced for garnish
Scallions, sliced for garnish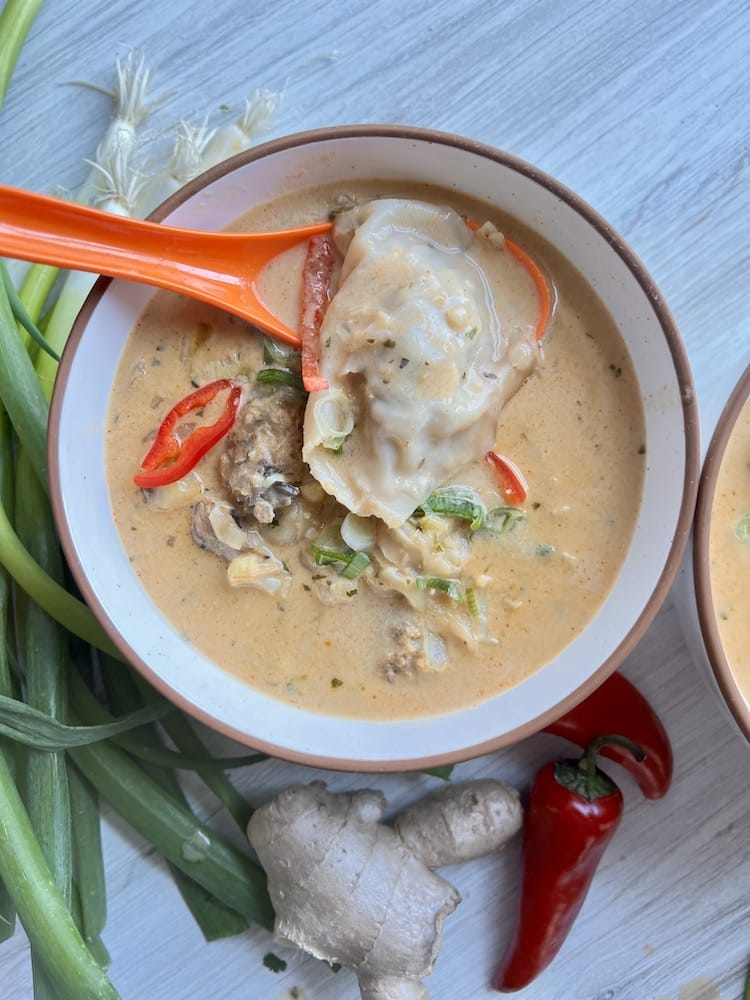 COOKING INSTRUCTIONS:
Thai Curry Dumpling Soup
In a medium pot, heat oil over medium-high heat. Sauté onions, peppers, and cauliflower until beginning to soften. Add zucchini and mushrooms and cook until tender. Add garlic, ginger, lemongrass paste, and green curry paste and cook for 1-2 minutes.
Add the rest of the ingredients except for dumplings and garnishes. Bring to a simmer
Bring to simmer and cook for 15 minutes. Add dumplings and cook for another 5 or until dumplings are heated through. Remove from heat and serve immediately garnished with scallions and Fresno chiles.
PAIRINGS:
Thai Curry Dumpling Soup
Made This Recipe? Leave A Review!
0 out of 5 stars (based on 0 reviews)