BBQ Smoked Chicken Recipe
Our BBQ Smoked Chicken recipe is simple, but flavorful. Brining is a must to ensure your chicken turns out succulent and falling off the bone.
Chicken Brine
2 quarts water
1/2 cup salt
1/4 cup brown sugar
1 head garlic, smashed
Fresh thyme
1 whole chicken
Dry Rub
1 stick butter (we used a garlic herb compound butter), softened
1/4 cup brown sugar
1 Tbsp salt
1 Tbsp chili powder
1 Tbsp smoked paprika
2 Tbsp garlic powder
1 Tbsp onion powder
1 Tbsp dried oregano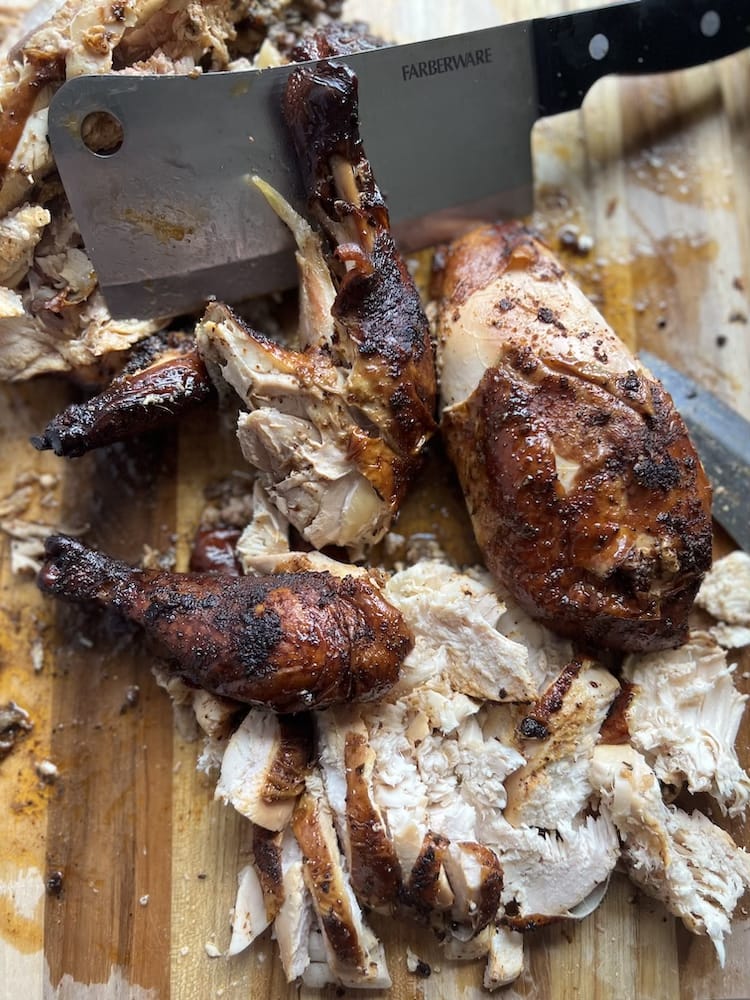 COOKING INSTRUCTIONS:
BBQ Smoked Chicken
Combine all brine ingredients, except for chicken and thyme, in bowl. Mix well. Place chicken in large ziploc bag. Pour brine into bag, add thyme, then refrigerate for 2 hours.
When ready to cook, preheat smoker to 225º and load wood chips. We used a blend of cherry and hickory.
Rub chicken with butter until stick is completely used up. Combine rest of dry rub ingredients in bowl. Season all of chicken with dry rub.
Smoke chicken until internal temperature reaches 165º. Be sure to temp the chicken in the meatiest part of the thigh to get an accurate reading.
Remove chicken from smoker and let rest 10-15 minutes. Carve chicken and serve with your favorite sauces.
PAIRINGS:
BBQ Smoked Chicken
Made This Recipe? Leave A Review!