Asian Chicken Lettuce Wraps Recipe
These Asian Chicken Lettuce Wraps are one of the quickest ways to get your hands on a TON of flavor.  The chicken and veggies are cooked in baking spices and a ginger hoisin sauce that will have you licking your fingers at every bite.
Ginger Hoisin Sauce
2 Tbsp fresh ginger, grated
1/4 cup hoisin sauce
2 Tbsp soy sauce
1 Tbsp Sriracha
2 Tbsp rice wine vinegar
1 tsp sesame seed oil
Crushed red pepper
Chicken Lettuce Wrap Filling
Olive oil
1/2 onion, diced
1/2 cup matchstick carrots
4 oz mushrooms, chopped
1/2 head garlic, minced
1/4 cup Shaoxing cooking wine
1 lb ground chicken
1/2 tsp Chinese 5 spice
Salt
Pepper
Scallions, sliced
Chicken Lettuce Wrap Build
Bibb lettuce
Meat mixture
Roasted sliced almonds, for garnish
Sesame seeds, for garnish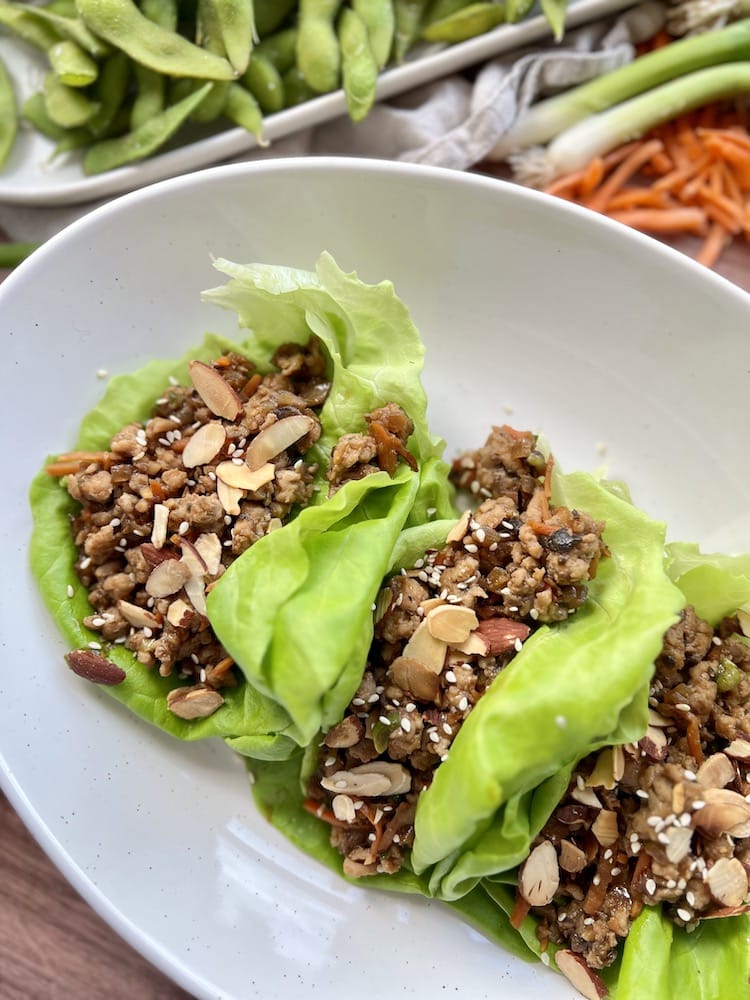 COOKING INSTRUCTIONS:
Asian Chicken Lettuce Wraps
Ginger Hoisin Sauce
Whisk together all ingredients in a bowl until well-combine. Set aside.
Chicken Lettuce Wrap Filling
Heat oil in large pan over medium-high heat. Add onion and sauté until softened. Add carrots and cook until softened. Add mushrooms and cook until softened. Add garlic and cook until fragrant.
Add wine and reduce by half. Add chicken and 5 spice, then salt and pepper to taste. Brown meat.
Add ginger and hoisin sauce then lower heat to simmer. Reduce sauce for 2-3 minutes or until desired thickness. Stir in scallions and remove from heat. Serve immediately.
PAIRINGS:
Asian Chicken Lettuce Wraps
Made This Recipe? Leave A Review!
0 out of 5 stars (based on 0 reviews)